By

LittleLife

on
Little Explorers: Back Carriers for Body and Mind Fitness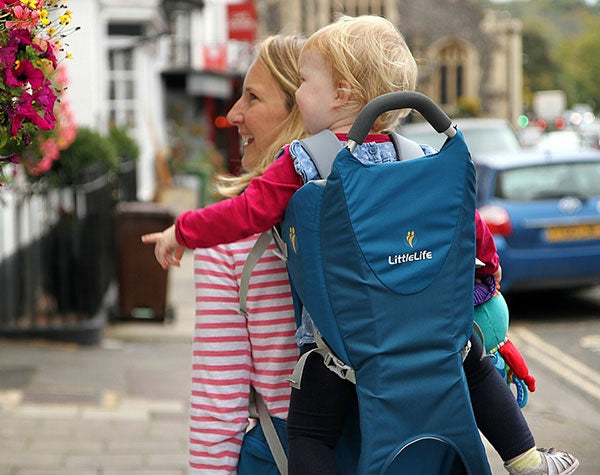 Feeling low and trapped as a parent of little children in mid-winter is so common. But there is a way to stave off the blues! We believe that going outdoors always raises a smile, so why not work some extra fresh air time into your life with a child carrier? Here's how…
The first time you put your precious little person into a rigid back carrier can be quite a moment. You're likely to be transitioning from babywearing with a soft front carrier, maintaining that loving connection, to popping them on your back, out of sight. It can feel like the first of many thousands of tiny steps towards independence. It's a proud moment too!
There may be a few indignant squawks from your child initially, but we haven't met a single little person who has sustained their objection past the first couple of minutes. When they realise they can see what you see, babble to you, and still have a wriggle, they usually love it. Often, children are lulled to sleep by the gentle sway of your walking, resting their heads on the pillow. And when it all goes quiet, you can check on them using the pocket mirror.
We all know that exercise is a brilliant antidote to depression, but in between the constant demands of caring for young children, trips to the doctors and school, your (paid) work life and household jobs, there's often little time left over for your needs.
It may help to reframe your idea of 'exercise'. It doesn't have to mean running a half marathon before dawn, when you have most likely been up half the night already. This is about real life, real people and really achievable physical and mental health. Any brisk walking wearing a child carrier will increase your heart rate, and release those all-important endorphins. Carrying home a load of groceries in the large pocket, as well as your child, will certainly raise a sweat, burn calories and build core strength!
Be adventurous! After all – what's the worst that could happen? Plot an off-road route, take your usual kit – snacks, drinks, nappies, wipes, phone and a friend – and go for it! The OS maps app is brilliant for discovering new parts of the countryside. Being out in the fresh air will literally lift your gaze from the floor to the sky and we guarantee you will feel better for it. It frees your mind from the repetitive mechanics of life at home.
If the January weather is not enticing you outside, we quite simply recommend getting togged up and doing it anyway. Your well wrapped-up baby will be snug as a bug in their carrier, and with the waterproof cover they will stay dry. Wear a good raincoat with a hood yourself and you'll be hands free with no umbrella. Venturing off the beaten path (or the pavement) with your carrier is liberating. You can go so much further than even an off-road buggy will allow – not limited by rocky paths, stiles or even muddy bogs.
Accept that your baby's routine may go a little awry. You'll soon find that this doesn't really matter. Relaxing the 'rules' is a real tonic for your mind. You'll start to remember the independent, courageous, adventurous person you were just a few months ago!
Make sure the carrier fits well, with the lower edge of the waist strap resting on your hips, allowing them to take most of the weight, rather than your shoulders.
Walk with your back straight and shoulders back. Resist the temptation to strain your head forward, putting pressure on your neck and shoulders.
Keep ankles and knees flexed and responsive – ready for uneven terrain and wriggling cargo.
Use the rain cover or sun shade.
If you or a friend are suffering with postnatal depression, seek help and remember – you are not alone.